Words and Photos: Richard Opie
You're sitting down, trawling through Trade Me listings, and meandering through Marketplace madness, trying to find the ideal candidate for a bit of a nostalgic car build. It'd be too easy to pick one of the favourites, surely?
There're the usual default options. Cars like the venerable Ford Escort (Mark 1 or 2, you choose) with a proven modification pathway, optimised by their popularity as a competition car. There's the Mazda-rotary route, a swathe of street-brawlers honed by Kiwi expertise and fanaticism. Or there's the older Datsun and Toyota route — again, cars that captured the imagination of past tinkerers, offering a wealth of go-fast and look-great options.
That's what caught the eye of Palmy's Josh Liddington. Bigger than its KE-chassis Corolla siblings, the TT130 Corona occupies a pretty nice place in Kiwi car culture, let alone the modded community. When was the last time you even saw one that was tidy, never mind an example that's as crispy clean as Josh's sharp-dressed 1980 edition?
It's a retro throwback of the highest order, absolutely glowing in its factory-original creamy yellow hue. You read that right folks, that gloss is right out of 1980, a coat of single-stage Duco some 43 years old, an aspect that sets the scene for the humble sedan's story.
While the car has a story of its own, it's worth delving quickly into the what, when, and why of the Corona as a model in its own right. As it turns out, the 'Corona' is actually a pretty important badge in the history of the marque.
The Corona was instrumental in establishing Toyota on the world stage. Following an aborted attempt at the US market in 1957 with the Toyopet Crown, Toyota retrenched and came up with an alternative solution. Fast forward several years, and it relaunched, unleashing its third-generation Corona onto the American public.
This time, the 'shovel-nose' RT40-chassis Corona would be a success, capturing the imagination of American buyers looking for a compact; fuel-efficient; and, above all, well-built car. Toyota had arrived on the world stage in earnest, and it was the RT40 that also spearheaded a serious push into the New Zealand market, in 1967, even before a Corolla had spun a wheel on Kiwi asphalt.
The Corona would become a mid-sized staple in Toyota's range, maintaining a reputation for quality and reliability, if not the last word in style and performance. Toyota would make an effort to buck this trend, with a motorsports programme in the 1990s seeing the Corona successfully run in two-litre touring car competition — including on Kiwi soil — but no matter how many 'Tuned by Chris Amon' badges that were added to the showroom models, the Corona never quite caught on as a bona fide performance option, instead forging a path as dependable transport for the masses who needed a little more space than a Corolla provided.
For Josh, though, dependable transportation and the simplicity of getting from A to B with enough space for a couple of sprogs in the back and a boot-load of groceries hasn't really been a factor in owning his Corona. Coming from a built SR20DET–powered Mazda Bounty ute, that is his own words "just lit up the first time I jumped in and dropped the clutch", the step into an unusually well-preserved example of Toyota's motoring history might not make a lot of sense, but there's method to the madness.
"When I was a young fella working — about 15 years old — there was an older bloke working there who had one of these Coronas," Josh explains. "It was pretty much the same colour, had the chrome bumpers; I just loved the shape of it!" Who knew that a Corona being used as intended — for Joe Average, every-day transport — would go on to spark such a reaction?
"I'd go on Trade Me and just search 'Toyota Corona', like, religiously, to see what popped up," laughs Josh.
That pristine original paint would catch his eye, coating the squared-off lines of the TT130 Corona that's now tucked up safely in his own garage. Those lines are the last gasp of an era in which Japanese stylists soaked up design cues en masse from the US. In the case of the sixth-generation Corona, it's probably best described as echoing the 'malaise era' of American design.
Josh's Corona echoes the era to perfection, with moderate curves squared off and bookended by chrome bright work. It's especially evident in the frontal design, the grandeur of the front grille presenting a four-eyed squint with the rectangular headlamps, no doubt appealing to the Bloggs family when shopping for a new sedan in 1980.
"This old fulla was selling it; it sat on Trade Me for a couple of months and when I went there I couldn't believe it had sat there for sale for so long," Josh says of the condition when he rolled up to take a look.
"He was selling it on behalf of his son, so I sorted him some money and drove it home," says Josh, who clearly couldn't believe his luck at finding such a pristine example.
Old cars don't need a huge amount stylistically to look great, and Josh's approach has been more of a preservation angle, rather than reinventing the wheel and throwing colours and accessories at the Corona that really don't need to be there.
A simple drop with a set of wheels generally works, and on the yellow machine it's a set of 15-inch SSR Mark IIs, measuring eight inches wide out the back and seven inches in the front, that sit pretty under the guards, filling them juusssst right. Of course, this wouldn't be possible without a similarly suitable suspension set-up, a fine-tuned combination that happened to be installed by a suspension technician previous owner.
Bilstein B6 shocks keep all four of the Falken Ziex tyres on the tarmac, while custom-wound Cobra springs provide the drop. It's a ride that Josh describes as "pretty damn smooth", endowing the elderly Toyota with a somewhat more spritely step, without compromising the car's cruiser character, and chopping and chattering over imperfections in the road.
We'll get to the crown jewel of the car, but first the interior deserves a bit of attention. In the early 1980s, tan was the colour du jour, and Toyota went in with full force. It's a hue that used to provoke pure disdain, especially if you were seeking any sort of street cred. But, in 2023, preservation trumps coating everything with a dollop of black VHT vinyl spray, and Josh's car has somehow escaped the sausage fingers of the backyard modified.
Everything is intact and correct, from the cloth-clad seats front and rear to the wipe-clean vinyl door cards. Slouched in the driver's seat, it's a wave of tan plastic in front, broken up only by Josh's addition of a wood-trimmed Momo steering wheel and a cheeky tachometer off to the right. But this is a simple cruiser, right? Why would keeping an eye on the revs be of any importance?
It all becomes clear when Josh pops the bonnet, a wry grin spread across his mug as he unveils what really makes this Corona special.
"The engine bay was really what let the car down," Josh explains. "It was a pretty leaky old thing, and it was a mess under there."
Under the grime was a factory 2T 1600cc engine, the base-spec engine that the TT130 Corona came with. While fancier models sported a 1.8-litre 3T option, which would have been a bolt-in option, Josh elected to keep the little 1.6 under the bonnet, just as a nod to the originality of the car.
"I thought about 4A-GE swapping it, or a rotor swap, but I felt dirty even thinking about removing it's original engine. Basically, I just ripped the motor out and took it into CSL Race Engines with instructions to go to town on it," says Josh.
So that's what the team did, in between its steady diet of speedway engines and motocross bike upgrades. The 2T emerged with a full complement of go-fast components, retaining its 1.6-litre capacity but with a lightened and balanced bottom end topped with high-compression pistons and considerable headwork to let it breathe.
CSL provided a bespoke Stage 4 cam grind, not only giving the 2T a hellishly grumpy idle, but allowing the little motor to spin past 8500rpm in pursuit of power — not that Josh needs to rev it that hard, but it sure sounds the part. "It's not made for town," he says, "the cam doesn't really kick in until 5500rpm, but when it does, it makes me smile!" 
Induction is by classic Weber 45 DCOE side-draught carbs, and the hot side of the ported head sprouts a gorgeous swooping header put together by Racing Shock Technology in Levin, another speedway specialist, who also pieced together the 2.5-inch stainless exhaust.
"Rodney at Roskilda was pretty surprised when we ran it on the dyno," grins Josh. "It made 96kW at the wheels, but bro, I wasn't ready for him to thrash it that hard! I don't think I've ever driven it as hard as that!"
The Corona doesn't get out much, but Josh readily admits "it's my baby", and the care lavished on the old Toyota is bound to ensure that the car retains its original allure. 
"It's insane when I do take it out," he smiles. "Everyone just double-takes and loves to come and talk about it and tell me about their memories!"
So, while the Corona may not be a common sight among the screeds of modified hardware at the next event, it's that 'common man' appeal that keeps people interested. But it's the screaming 2T that properly drops jaws as soon as Josh buries the loud pedal, ensuring that the once-staid family sedan gets off its backside and leaves some of those more favoured options in its dust.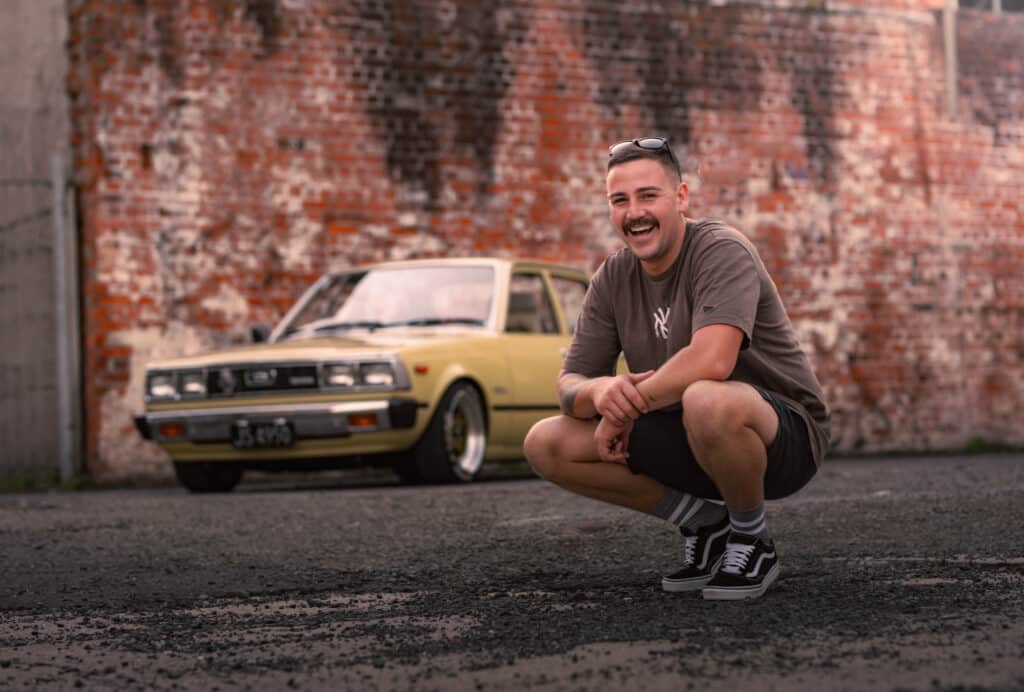 _________________________________________________________________________________________________
This article originally appeared in New Zealand Performance Car issue 303